The Edge


2009
Drum Media : September 9th, Issue #922
"SANDPIT #52
Arriving late, I only caught the last couple of songs from Amy Newton-Banks. What a shame! With a face as lovely as Sophie Ellis-Bextor and an even lovelier voice, Newton-Banks was the most entrancing girl-with-a-guitar I've seen in some time. Doing so much with so little, the diminutive singer of Newcastle outfit The Bell Curve captivated the crowd with a smile, a guitar and gorgeous folk-pop songs. She closed with one of The Bell Curve's songs, Right In Front Of Me and she chewed on its vowels and crawled up its octaves like Tori Amos. I was so impressed that I picked up her Stepping Stones and Pop-up Books EP, a charming document that suggests we'll be hearing more from Newton-Banks in the years to come.                                                                                      LIAM CASEY"
The Happenings
This is me on the front cover and first page of The Happenings entertainment guide in Port Macquarie, July 23rd 2008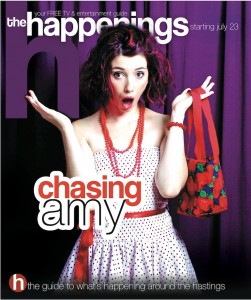 Amy's the belle of the ball!
My first show venturing up to beautiful Port Macquarie, this piece was in Port Macquarie News in January 2008.
Pop Tarts Tv
PopTarts is a television program showcasing female fronted pop music.
It originally aired on Sydney television station TVS in 2008.
Hermit Love Song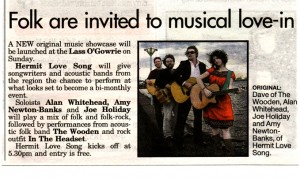 This clipping is from The Post in Newcastle, May 9th 2007 about the first ever Hermit Love Song which I played at.
Roar Festival
This one is from the March 2007 edition of Reverb Street Press.